When running your business, your main focus is often how to get people in the door, whether literally or metaphorically if you are an online business.
Just like the old faithful dress which you have had since you were 17, many people will turn to the failsafe traditional forms of marketing such as posters, newspaper adverts and flyers.
Others may believe in their product/service so much that it is just a matter of time before customers fall at their feet, lucky for some!
Now, people who follow these strategies will find some customers and gain a trickle of business, but this is totally unsustainable! So, "Is digital marketing right for me?" I hear you ask…
No matter how old or new your business is, digital marketing is a great way to generate leads and turn these leads into loyal customers.
Are you ready to be out with the old and in with the new? We've got a sneaky feeling that you are!
Though you might need to know the answers to these questions first: what is digital marketing? How can digital marketing benefit me? And how you can start your digital marketing journey today!
What is Digital Marketing?
Digital marketing is referring to all marketing efforts which take place on the internet.
We're talking:
Social Media
Email Marketing
SEO
Blogging
PPC
Your digital marketing could involve all of these or just a couple. There is no right or wrong way to do digital marketing, every business is unique and will have a different goal.
Digital marketing doesn't just have to bring in customers, it can be used to achieve various goals such as building brand authority in your industry, keeping customers returning and rebranding your business.
You may be thinking, "brand authority, what's that?" but it's more common than you think!
Let me guess, if you think of trainers, do you think of Nike? They have made their Swoosh (yes, that is the technical name for that tick) a renowned icon and their business is one of the most well known in their industry. THAT is building brand authority.
Did you know that 72% of marketing budgets in the UK wen on digital marketing?
There's actually more to digital marketing than you may think! Wayyyy too much to cover in here, if only there was somewhere else you could check it out… (pssst! Here!) 
How Can Digital Marketing Benefit Me?
Digital marketing can benefit you and your business in many ways. First of all, the number of potential customers you can attract online is a much larger number than any you could attract using local (traditional) marketing.
Let's look at an example:
If you run a business selling shoes, you may put out a poster on a street advertising your brand. This poster will only be seen by people who walk down that specific street and consciously look at the poster. There is no guarantee that on any given day a person who is intending on buying shoes will see your poster.
Now, imagine you are the same company, but instead you decide to set up a website. You can make that website SEO-friendly (more on this here) and immediately your brand is more likely to be found by the right audience.  
By having marketing that is directed toward your ideal demographic, you are ensuring that none of your marketing efforts is wasted on people who would never buy your product in the first place!
Now that you have read our example, let's take a look at some of the other benefits of digital marketing which you could achieve:
Remove geographical boundaries: Traditional marketing techniques are often focused on a small geographical area whereas digital marketing can target anywhere in the world.
Personalisation: You cannot personalise a flyer or poster for every single potential customer however, you can personalise an email campaign to include the recipient's name, fancy!
Tracking: One key benefit of digital marketing is the ability to see your marketing analytics. You can track how many people visit your website, how much engagement your social media posts receive and even where someone clicks on your email campaigns! This allows you to edit your marketing strategy in real-time to maximise these statistics. Don't worry, you don't have to be a nerd to appreciate a good graph every now and again.
Here's a statistic for you right now!
75% of agency marketers rated email marketing as the most effective means of digital marketing in terms of return on investment (ROI)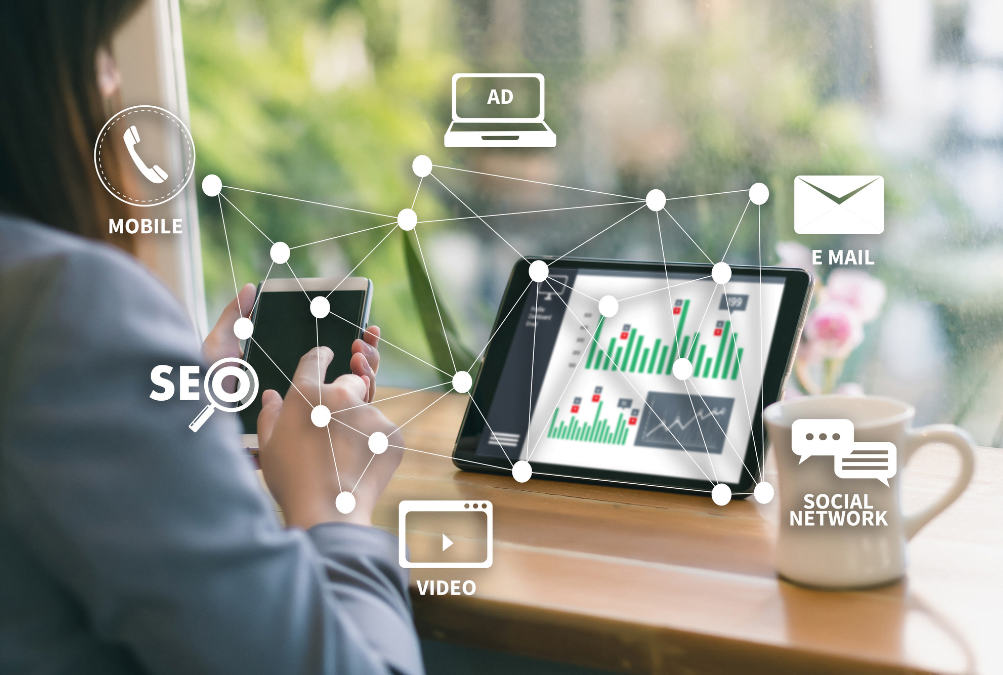 How To Get Started
Now that we have shown you the magic of digital marketing, we bet you are rearing to get started but where should you begin?
Well, this truly depends on the amount of time you are able to commit to digital marketing. Whether you can spend 1 hour a month, 1 hour a week or 1 hour a day, any time spent doing digital marketing will be worthwhile!
Most of us already are familiar with social media, this is a great place to start when it comes to digital marketing. Of course, any business can use any social media, however below are our top recommendations for social media platforms.
For B2B businesses (business-to-business) we would recommend using:
For B2C businesses (business-to-customer) we would recommend using:
In 2022, social media marketing is more important than ever and giving your business a stellar online presence could give you an edge on your competition. Do you want to find out more about social media strategies to use in 2022?  
Most businesses will also benefit from using a video-based platform such as TikTok. You may think that TikTok is only for young people doing dances in skimpy outfits (technically, they are there, but that's not all of TikTok, we swear!) but, trust me, you can find any and all business types on there; even CREATIVE in TiME! 
Is Digital Marketing Right For Me?
So, after all this, let us answer "Is digital marketing right for me?"
We think that digital marketing is for EVERYBODY!
The brilliant thing about digital marketing is that it is not one-size-fits-all, when you use a digital marketing agency such as CREATIVE in TiME you will get a bespoke marketing strategy to suit you and your business.
If digital marketing just isn't your style, it is definitely ours!
"Andrea, Fred and the team are not only experts in the marketing field, but approach businesses with the enthusiasm and drive that you would expect from a leader within your own team. They truly care about their clients and you can really feel that in all that they do."
It's no secret that Marketing Agencies don't have a great name. The common complaint is that they just don't return value. We believe that the missing link time and time again is understanding.
Understanding your business and your goals, understanding your customers and understanding your expectations. Because we spend the time in the beginning asking the 'right' questions, we can provide you value and achieve deliverables in record TiME.
Get in touch now to find out how we can help get your business up and running in the world of marketing.