Let me guess, you want your website to be easily found by customers and don't want to spend time creating a stunning website if no one can see it, we get it! Have you heard of SEO and how to optimise it for your business?
With the seemingly infinite amount of content on the internet, it can be overwhelming knowing how to start. I mean, what is SEO anyway?
Search Engine Optimisation (SEO) is the way you can help customers to find your site through search engines. By improving and optimising your SEO you can drive more traffic to your website and therefore generate more sales.
1. Use the right keywords
Firstly, you need to know what your customers are searching for. Are your customers more likely to use formal or informal word/phrases? You need your website to use the same language as your potential searchers.
Use keyword search tools to research what keywords to use for your business (check out our favourite here). If you input one keyword, keyword tools can show you the amount the term is searched, its SEO difficulty and a list of other similar keywords.
The information you find can be used to create keywords lists. If you are promoting different products and services, then you can create a list for each to optimise each page most effectively.


Common mistakes:
Only doing keyword research once
Targeting keywords that are too competitive
Forgetting to update and expand your keyword list.
Once you have found your keywords, you need to know where to use them:
Title
URL
Throughout the page text
Image alt text
2. Link building
Link building is when you acquire hyperlinks to your website from other websites. A hyperlink is a word, image or phrase that you click on to travel to a different section of the current document or to a new document.
Increasing your link building between websites is a great way to build web authority and increase your chances of ranking higher.
Gaining links organically is ideal, you can encourage this by making your website link-worthy with useful information and interesting products/services which could be featured in a blog.
You can also build links to your site by asking website owners to carry your link on their site in exchange for you to do the same. Remember, quality over quantity. Links from reputable directories, website and educational websites will be more useful than links from untrustworthy blogs and sketchy websites.
3. Ensure your website is user-friendly
Making your website user-friendly will, of course, help your users have the best experience possible but it will also improve your SEO and Google Rankings.
Site speed is confirmed to affect your SEO, just imagine the impact it could have on your user's experience! With the majority of websites available with no load time, if your website is slow then it can cause users to bounce out. User behaviour on your site sends signals to search engines which then can impact your ranking.
Google wants its users to be happy and understand that load speed can have a major impact on user satisfaction. Google's method to ranking includes using Core Web Vitals; these assess your websites loading time, visual stability and interactivity and the results of this influence your ranking.
The faster your site speed, the higher your ranking. Simple.
4. Look at your content length
How long your content is can affect your SEO and your ranking. Blog posts should contain at least 300 words in order to rank well on search engines but research shows that the ideal length for a blog post is 1,600 words.
You may be wondering; how do I know how long MY content should be? An easy way to do this is to Google your main keyword and look at the top 10 results on Google. Do these contain more than 1,600 words? If they do then yours should too, if not then look at the average length of other similar high-ranking content.
Don't forget, quality over quantity!
5. Optimise your on-page SEO
On-page SEO is the way in which you optimise your website content for search engines. Some examples of on-page SEO are headings, slugs, meta descriptions and internal links.
Here are some top tips to get you started with optimising your on-page SEO:
Meta descriptions: A meta description is the small chunk of text that appears below your page title on a search result. Make sure these are concise, accurate and relevant to your content.
Headings: DON'T use misleading titles. Click-bait titles may give you more initial clicks but will lead to a high bounce-rate when your content is not what is expected. Use H1 headings for your main title to help Google understand your content.
Slugs: No not those slimy things in your garden! A slug is part of your URL that identifies a particular page on your website. Try to include your keywords in your slug and keep it short and sweet! People check to slug to ensure the content is what they are looking for.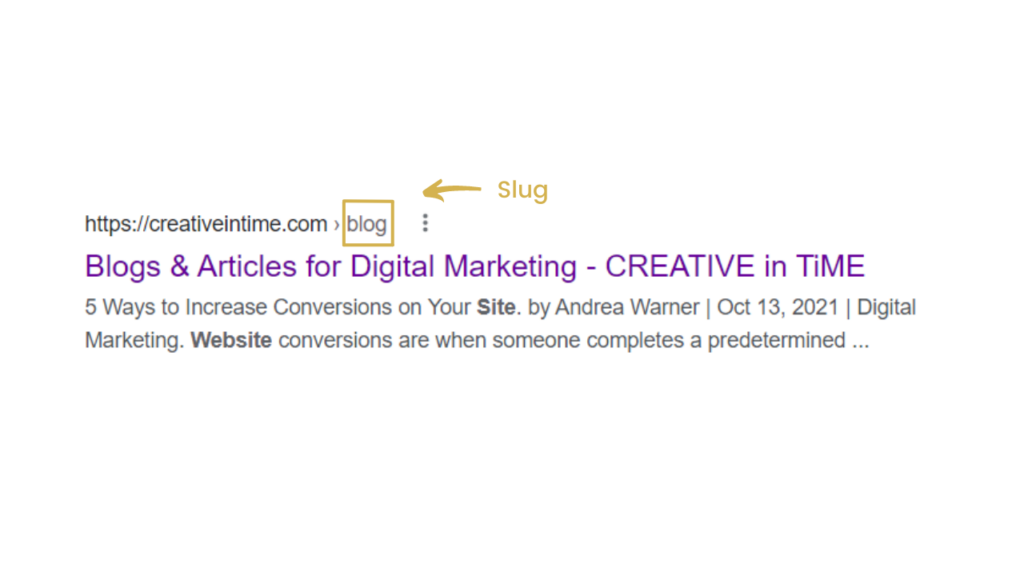 Off-page SEO and technical SEO are also important to consider on your website…luckily for you, we have our very own guide to all things SEO! Check it out here.
If you want your SEO optimised but you are still unsure how, or maybe you simply don't have the time, get in touch now! Here at Creative in Time we have a team of SEO experts just waiting to help you. Click here to book a discovery call now.