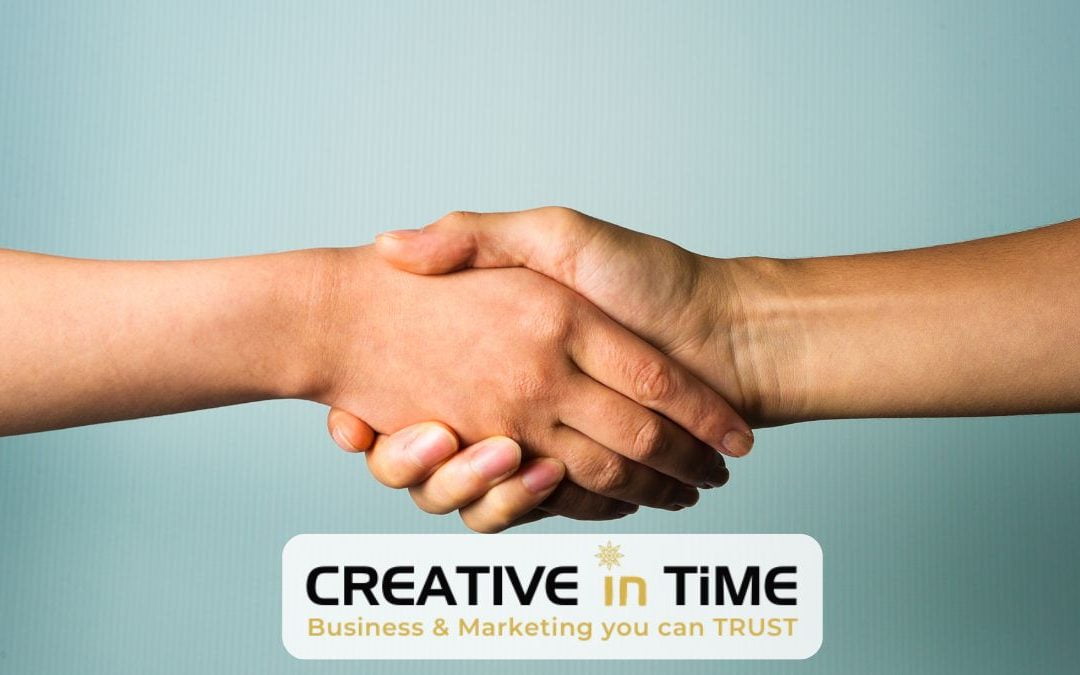 In the digital age, businesses are constantly seeking innovative ways to stay ahead of the curve. One such way is through strategic partnerships, particularly in the realm of marketing. But what exactly is a marketing partner?
In this blog, we will delve into the concept of a marketing partner, how it differs from a typical digital marketing agency, and how companies like CREATIVE in TiME are redefining the role of a marketing partner.
The Evolution of Marketing: From Agency to Partner
Traditionally, businesses have turned to digital marketing agencies for their sporadic marketing needs.
However, many businesses have felt let down by agencies that do not fully understand their unique needs and goals, and having ad hoc relationships with agencies brings little consistency and growth.
This is where a marketing partner comes in. A marketing partner is more than just a service provider; they are an integral part of your team. They work with you throughout the year, delivering on your digital marketing needs and ensuring your online presence grows.
This is especially the case for SMEs where the MD level leadership skills in marketing on offer from CREATIVE in TiME give you peace of mind in your strategic choice.
The Power of Auditing
Before diving into the world of digital marketing, it's crucial to understand where you currently stand, how you are currently doing in your digital marketing.
At CREATIVE in TiME, we offer auditing services for your company's digital marketing. This is not just an initial audit but an ongoing monthly review, providing clear status updates and recommended actions.
Regular auditing ensures that our client's digital marketing strategies are always on point and delivering results. Auditing allows us to identify areas of improvement and opportunities for growth, setting the stage for a successful marketing strategy.
The Importance of Strategy and Planning
When you know your starting point, having a clear set of goals and a strategy around which to deliver them is crucial in marketing. Many businesses lose huge amounts of time and money by not having aligned sales and marketing efforts, so save time and ensure that all your marketing efforts are aligned with the business's overall objectives.
At CREATIVE in TiME, we help our clients develop and implement effective digital marketing strategies that drive growth and success. We understand that a well-planned strategy is the foundation of any successful marketing effort.
The CREATIVE in TiME Difference: A Comprehensive Approach to Digital Marketing
At CREATIVE in TiME, we aim to deliver you business guidance and digital marketing that you simply won't get from other companies. We don't just provide digital marketing services; we offer comprehensive business management advice, strategy, and planning.
Business Planning and Strategy
We guide our clients in not only having a robust digital marketing strategy but also offering strategies and solutions in sales (B2B and B2C), digital transformation, client retention, account management, customer service, operational efficiency, business modelling, and commercial sales planning.
With CREATIVE in TiME, you have a marketing partner you can TRUST.
Looking for a marketing partner that understands your business? Contact CREATIVE in TiME today!
Commercial Planning Guidance
At CREATIVE in TiME, we understand that a successful marketing strategy is not just about creating compelling content and engaging social media posts. It's about aligning your marketing efforts with your commercial objectives.
We provide guidance on commercial planning, helping you to identify your target market, understand your competitive landscape, and set realistic, measurable goals.
Customer / Audience Journey Planning
Understanding your customer's journey is crucial to creating a marketing strategy that resonates with your audience.
We help you map out your customer's journey, identifying key touchpoints and opportunities to engage and convert your audience.
Competitor Research & Analytics Audit
Knowing your competition is key to standing out in the market. We conduct thorough competitor research and analytics audits to understand your competitors' strategies, strengths, and weaknesses.
Competitor information is invaluable in shaping your own marketing strategy and positioning your business for success.
Brand Strategy & Design
Your brand is more than just your logo; it's the perception people have of your business. We work with you to develop a strong brand strategy and design that aligns with your business values, resonates with your target audience, and sets you apart from the competition.
Social Media Management
Social media is a powerful marketing tool. We manage your social media platforms, creating engaging content that boosts SEO and raises brand awareness. Our social media strategies are tailored to your business, ensuring that your social media presence aligns with your brand and business objectives.
Website Management
Your website is often the first point of contact potential customers have with your business. We ensure your website is always up-to-date, user-friendly, and optimised for search engines. A well-managed website can significantly improve your online visibility and convert more visitors into customers.
Ready to take your marketing to the next level? Contact CREATIVE in TiME today!
SEO
Search Engine Optimisation (SEO) is a critical component of any digital marketing strategy. At CREATIVE in TiME, we carry out monthly SEO tasks, both technical and content-based, on-page and off-page, to improve your website's visibility on search engines.
This ensures that your business is easily found by potential customers, driving more organic traffic to your website.
Email Campaigns
Email marketing remains one of the most effective ways to engage with your audience. We manage your email campaigns, creating personalised content that resonates with your audience and encourages them to take action.
Advertising & PPC
Pay-Per-Click (PPC) advertising can provide a significant boost to your online visibility and lead-generation efforts. We manage your PPC campaigns, optimising your ads to ensure you get the best return on your investment.
The Value of a Marketing Partner
Having a marketing partner like CREATIVE in TiME is particularly beneficial for businesses that may not have a deep understanding of marketing. With us, businesses can access director, manager, and executive-level resources for a cost that is equivalent to hiring 1-2 marketing executives.
This provides excellent value for money and allows businesses to leverage a range of digital marketing strategies and skills without having to invest in a large marketing team and provide them with direction.
Conclusion
In conclusion, a marketing partner is a game-changer in the world of digital marketing. They offer a comprehensive range of services and bring a depth of business experience that typical digital marketing agencies often lack.
So if you're looking for a partner to help you navigate the digital landscape, look no further than a marketing partner like CREATIVE in TiME.