What is SEO?
Search Engine Optimisation (SEO) is the way in which you increase your website's visibility and chances of being found in search engines.
SEO drives organic traffic onto your website. A recent study found that 28.5% of people click through on the first organic search result demonstrating that people trust an organic result more than a paid advertisement. Therefore, the higher you rank, the more organic traffic you should receive.
In our guide we aim to show you what SEO is and how to utilise SEO strategies in your website.
How Search Engines Work
To understand SEO, you need to understand the basics of a search engine.
Firstly, search engines are machines which scour the internet for content to determine which is most relevant to your search.
To scour the internet, search engines work through a three-step process:
Crawling: They look through the internet for content and read the text/code from each URL. They do this to discover new and fresh pages with updates, images and videos. The exact amount that Google crawls a day is unknown but can be estimated at 45,000 pages a second.
Indexing: Google then files the findings of their crawling into an organised index to be displayed to searchers on a search page. Check how your site pages are indexed by heading to Google and typing "site:yourdomain.com" into the search bar.
Ranking: The final step is ordering organic content on a search page from most to least relevant in relation to the original search query.
Did you know there are three types of SEO?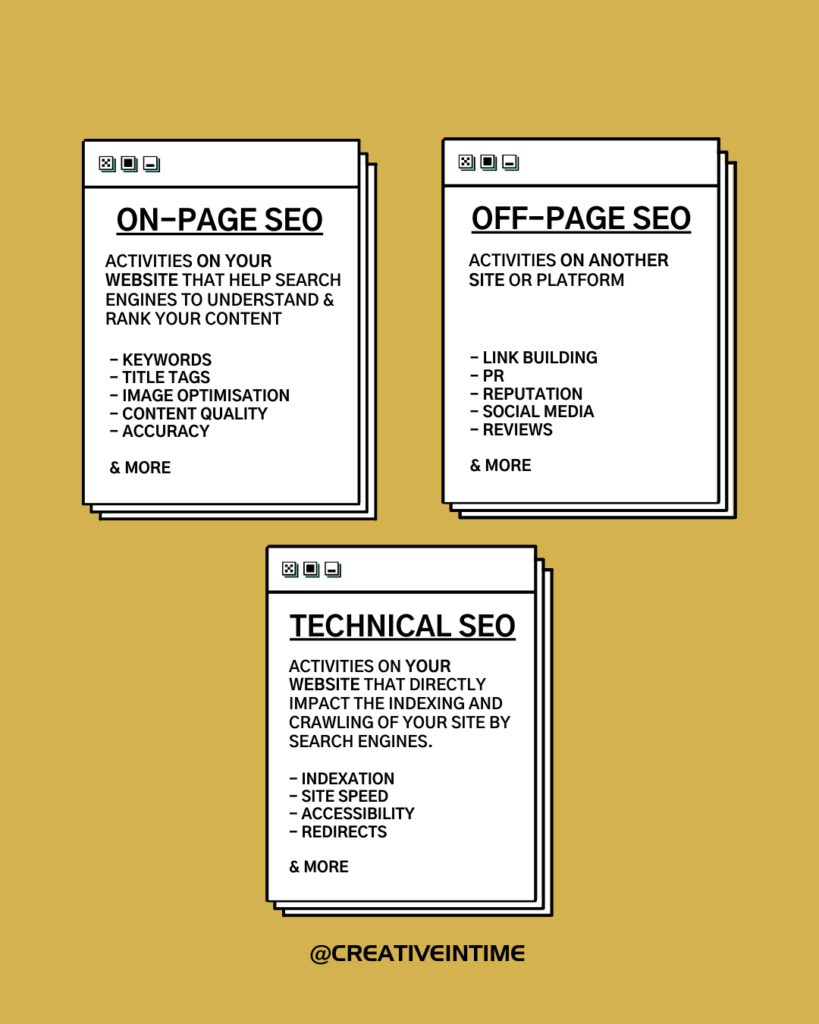 On-page SEO
On-page SEO are activities on your website that help search engines to understand & rank your content e.g., keywords, image optimisation, content quality, and title tags.
Without On-page SEO you miss out on opportunities to rank for search enquiries related to your business. SEO is one of the most popular and cost-effective digital marketing strategies
Here are our top tips for optimising your webpage!
Title: The reader will see your title before they even reach your page. Create interesting and stand out titles to catch the reader's attention. Use KEYWORDS to help the search engine understand your content.
Meta descriptions: This is the small piece of text below your page title on a search result. REMEMBER to always add these and edit these to be concise and useful.
Headings: Make sure to use the correct headings, they should match the search page title. People will stop reading if they are not relevant or informative.
Share-worthy content: Make content that people will want to share and link to. Add all the keywords that are relevant, make sure that you completely answer the question asked.
Off-page SEO
Off-page SEO is any SEO strategies that occur outside of your website. These could be link building, social media, reviews, and more.
It is important to monitor off-page SEO as you will potentially rank higher than a competitor if your off-page SEO is higher. It is a factor in determining how valuable your page is to a search question, a website with no off-page SEO is unlikely to be found.
We have compiled some easy tips to get you started with your off-page SEO:
Links: Ensure that you have no broken links. You can build links to your website by guest posting on authoritative sites and submitting work to high-quality directories.
Social media: Build connections with influencers and create unique content to form a positive social media presence. REMEMBER to keep your audience in mind and ensure your content is compatible.
Content: Make quality content to make it easier to get backlinks to your site. Long-lasting, quality backlinks are very useful to off-page SEO.
Technical SEO
Technical SEO refers to the parts of your website that are not content such as behind the scenes elements that are not visible to the public (yes, these do matter!), e.g., indexation, site speed, and accessibility.
These activities directly impact the indexing and crawling of your site by search engines. By making your website as search engine friendly as you can, you ensure that it can easily index your pages, and make it readily available to searchers.
This can seem intimidating to a beginner, but here are a few simple steps to start:
Make sure your website is mobile-friendly (check now by clicking here) to ensure your page can be accessed from anywhere, by anyone.
Check how quickly your website loads (check now by clicking here), the faster your website loads, the more pages are indexed and the higher it will rank. Site speed is a very important ranking factor for Google.
SEO can be daunting when starting out, if you are feeling lost or feel like your business could use support, click here to book a discovery call with CREATIVE in TiME, our marketing business would love to help!