When running your own business, using keyword tools for SEO can save you lots of precious time and they are often free or inexpensive.
Do you know what an SEO keyword is? If not, click here to find out.
As a small business owner, your time is valuable, and time spent finding keywords for your SEO and blogging can feel like it is taking you away from other responsibilities. We understand this and have created a comprehensive list of our top 4 keyword tools for SEO to help streamline and improve your SEO.
Learn from the experts, this is what we do!
Ubersuggest
Ubersuggest is a free to use keyword tool which assists in keyword idea generation and aids in search engine optimisation (SEO). You can also pay for it which unlocks more useful analytics and allows you to search for keywords without a limit.
When used to search for keywords, you can see search volume, keyword suggestions, how difficult it will be to rank for the keyword and even more.
You can use Ubersuggest to analyse your competitors and see what keywords they rank for. This allows you to see what is working for them so that you can adopt your strategy accordingly.
As well as seeing related keywords, you can also see a table of 100 Google search results for that keyword. It included estimated visits, a domain score, backlink numbers and how often that page is shared on social media.
A useful feature of Ubersuggest is the ability to analyse your websites SEO as it can tell you any SEO issues which need fixing such as headings and meta descriptions.
AnswerThePublic
Do you ever want to create a blog post but need help knowing what people are searching for? Or not know what questions people REALLY want the answers to?
AnswerThePublic is a free online keyword tool where you input a keyword and it will tell you the most common questions searched in relation to this keyword. The information can be viewed in a list or as a visualised infographic such as in the image below.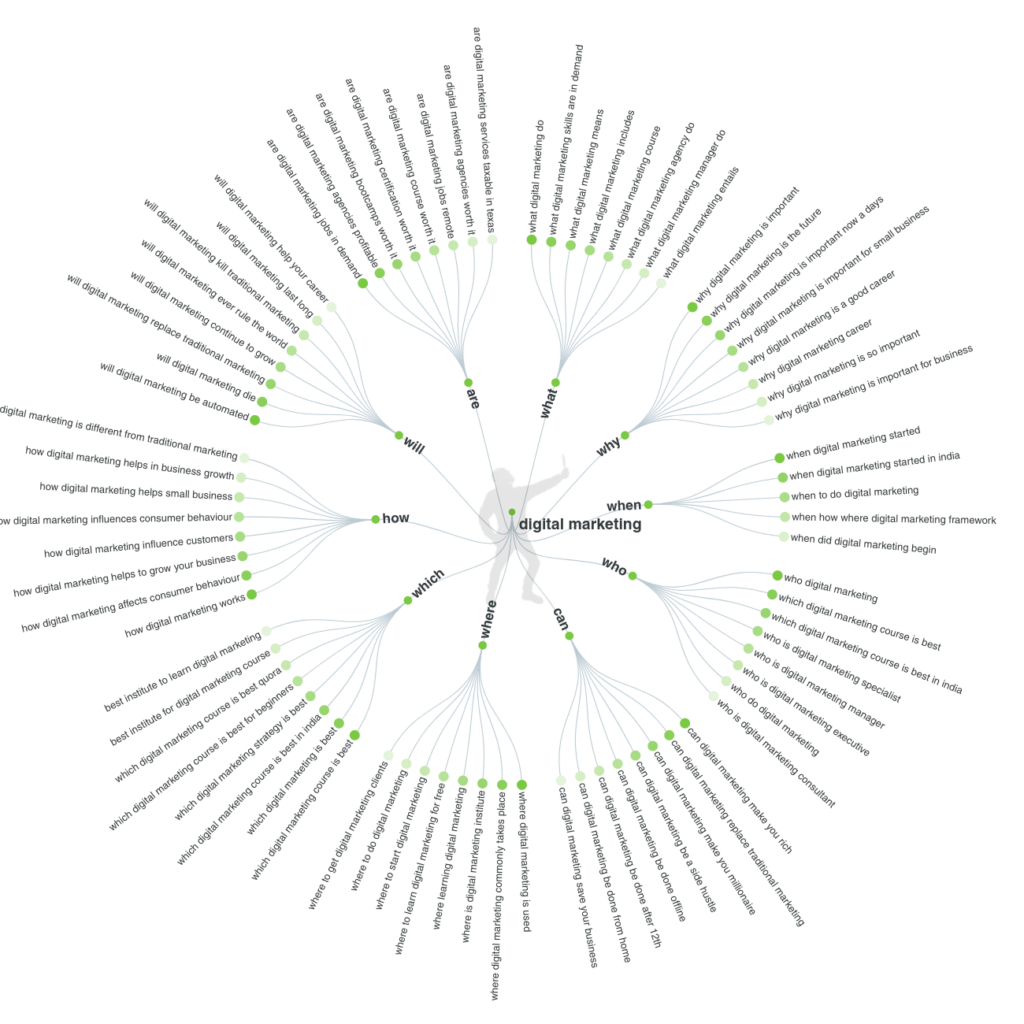 This is a useful tool as the keyword suggestions are based on Google and Bing's auto-suggest feature. The free version of AnswerThePublic is great but you can also pay to be able to complete more searches per day.
SEMrush
SEMrush is an SEO tool used to perform keyword research. Using the keyword overview tool, you can find out everything that you need to know about your selected keyword such as how many people are searching for it per month, how its trend is changing and all sorts of other useful information.
You can also use it to find out similar keywords to use alongside your keyword and it also shows a list of organic search results for competitor research.
Using the topic research tool can give you an extensive set of related topics to your keyword which can guide you with your content and blogs to improve SEO.
Google Trends
You can use Google Trends in two ways to perform keyword research, let's look at the first.
The first way is to enter a specific keyword and then take a look at the "related queries" section to find out what other people have been searching for regarding this keyword. This can help you find more keywords, questions that people need answering and what everyone is searching for.
The second thing you can do is view whether your keyword is growing or declining in popularity. Take the image below as an example…

In blue is the term "digital marketing" and in red is "content marketing". You can see that digital marketing has been growing and staying at a steady search rate whereas content marketing has plateaued and is no longer gaining momentum to improve.
Now, this doesn't mean that content marketing is a bad keyword, it is searched less which means you will have more chance at ranking highly for it whereas for digital marketing you may struggle to make a dent.
Keeping track of keyword trends allows you to switch up keywords if suddenly another keyword has a rise in searches.
All of these keyword tools for SEO are brilliant but you may wish, and we would also recommend, using multiple tools as they all serve an individual purpose. AnswerThePublic does not show the amount each keyword gets searched whereas a tool such as Ubersuggest does show keyword traffic.
If you need help with your SEO keywords and want our marketing agency to work on your keywords then get in touch now.