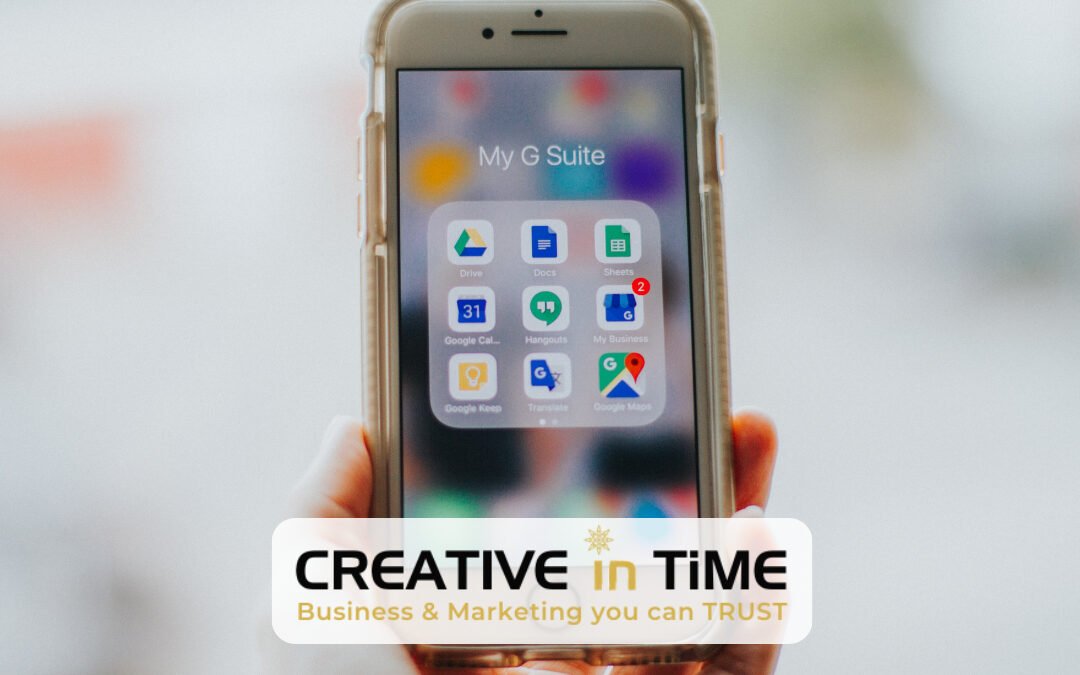 Ever wondered how to get your business to the top of a Google search?
Your Google Business Profile could be the key you need to open the door for new business opportunities. Google Business Profile, previously Google My Business, is an excellent SEO tool at your disposal, especially when it comes to local SEO.
Local SEO explained
It's all about targeting the customers who are local to you – the ones who are within a short drive away from where you run your business. This is especially important for those with a store front. When your customers are looking for a local business who can solve their particular problem, you need to be the first name they see both on your organic search and through Google Maps. Local SEO includes optimising your Google Business Profile as well as other tricks of the trade. To find out more on how local SEO can boost your business, check out what CREATIVE in TiME can do to boost your organic rankings.
What exactly is a Google Business Profile?
You might be familiar with Google My Business (GMB) since the name change only happened about a year ago. But it's the same system with even more benefits than ever for your business!
When you search for a company on a search engine, have you noticed on the right-hand side a profile looking something like this?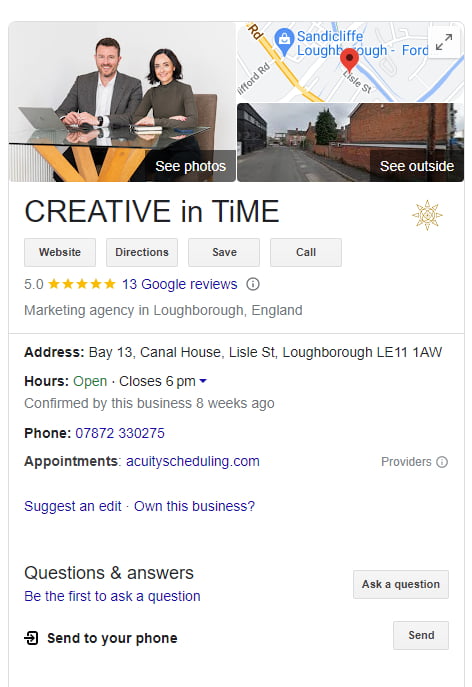 THIS is a Google Business Profile, and it can do wonders for your business!
Google Business Profile allow you to list your business and its location on Google Maps and local search results. This helps to attract customers within the local vicinity of your place of operations.
So why is a Google Business Profile Important?
The short answer: it brings in leads to your business. But there's a lot more to it than that.
With this profile, you can clearly display important information about your organisation that your customer's/clients are searching for. This could be anything from opening times and your website to your address and reviews by previous customers. 90% of people read reviews before converting so by having reviews appear right at the top of Google, it gives your business a higher chance of obtaining a new customer.
When you are looking for a business on Google, how often do you go to the contact page to call them up? More often than not, users head straight to the Google Business Profile and get essential contact information from there with 94% of calls coming from the Google Business Profile alone! If you let CREATIVE in TiME work their magic on your profile, you can work your magic from there and upsell your clients on a daily basis!
Creating a Google Business Profile
At CREATIVE in TiME, we offer everything from uploading your businesses information to optimisation and responding to your customer's reviews. Contact us today to get started on your Google Business Profile
Creating a Google Business Profile is entirely free. But to optimise to and utilise in its best capacity, you need to know what the tips and tricks that Google's robots are looking for. That's why we are here. CREATIVE in TiME use their expertise to give your Google Business Profile a high success rate.
5 Ways to Optimise your Google Business Profile
1. Make sure all your information is correct.
This might be stating the obvious, but you might be surprised how many businesses forget to update their Google Business Profile when they move locations. By providing the correct information, not only does it mean you'll get leads sent to the right place, but you'll also provide a good user experience for your customers, resulting in positive reviews.
2. Add in high-quality photos
You wouldn't buy something without seeing the product yourself first, would you? The same goes with users when Googling for your company. When a restaurant has high quality images of their food, it can entice customers to place a booking. When you showcase behind the scenes images from your business, it shows the positive and friendly experience they will have whilst with you. A high-quality image of your company logo is also a must!
3. Don't forget to add video
Online Videos Have an Audience Reach of 92% Worldwide. By adding a video to your Google Business Profile, your target audience can get a real feel for what you have to offer and the people behind the business. Ever since TikTok took the world by storm, your audience has been consuming more video content than ever before. After all, a video can say exactly what you need to say in under a minute.
4. Write a compelling description
Your description should help sell your business to potential customers. It needs to include your unique selling point (USP) – what makes you stand out from your competitors? Otherwise, how will they know to choose you? Your unique selling point is well unique; its what gets your customers to convert instead of looking at your competitors.
5. Engage with your Google reviews
Having customers leave reviews on your business sends a trust signal to potential new customers. But so does responding to the reviews you receive. By responding to positive reviews, it shows that you are engaging and building loyalty and trust with them. Alternatively, by replying to negative reviews with solutions for unhappy customers, it shows you are proactive to solve any issues. Every business has at least one negative review – it's all about how you address them. Struggle with keeping professional? Leave it to us.
How CREATIVE in TiME can help
Setting up your Google Business Profile might appear easy enough at a first glance but optimising it the profile is the key to success. Creating these business profiles can be time-consuming and for a busy business owner such as yourself, this might not be your top priority. But that's what we are here for! We discuss your goals, we set up and optimise your profile, and you get to watch the leads roll in! Contact CREATIVE in TiME today to get started.
By opting to include more than just one of our services, you can reap the benefits from multiple directions, giving your business even more opportunities. Local SEO doesn't just comprise of your Google Business Profile; it also includes localised keywords in your copy and building links with other businesses and organisations in your area. See our full list of services here.